Mastery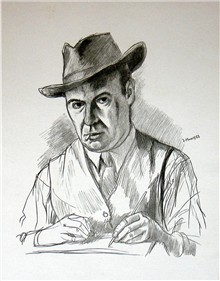 Self-portrait 1952
In 1943, he engraved twenty burins for
Saint-Jean-du-Ciel
by Roger Secrétain. The same year, Louis-Joseph Soulas agreed to become the chairman of the
Société des Artistes Orléanais
, created in 1923 by Maurice Genevoix. He held this position until his death.
In 1946, he illustrated
la Marche à l'Étoile
by Vercors, and
Présentation de la Beauce à Notre-Dame de Chartres
by Charles Péguy. The year after he engraved a series of woodcuts that he put together in a collection entitled
Quinze Gravures des Ruines d'Orléans
.
"Fifteen views of the wounded and mutilated Orléans"
as he used to say.
He also made wood engravings for
Petit Voyage autour de ma Bibliothèque
by Pierre Réveilhac.
In 1948, his work included engravings from gouaches by Pierre Guastalla for
l'Autoclète
by Alfred Jarry, and sixty burins for
Rémi des Rauches
by Genevoix. In 1949, he produced engravings of
Présentation de la France
by Jules Romains, and ten copper engravings and two woodcuts for his
Portrait de Soulas
by Jacques de Laprade in 1950. In 1951 he engraved woods for
Notre-Dame de la Beauce
by Jean-Louis Béchu, some burins for
Journal d'un Curé de Campagne
by Georges Bernanos and in 1952 he engraved copper plates for
Une Promenade en France
published by Les Halles aux Cuirs Réunies.
On several occasions, he was a member of the jury for the Prix de Rome of engraving. He also joined the "Peintres Graveurs Français" and was one of the founders of the "Jeune gravure contemporaine" at the end of the twenties. Beginning 1945, he was the chairman of the Club Orléanais du Cinéma.